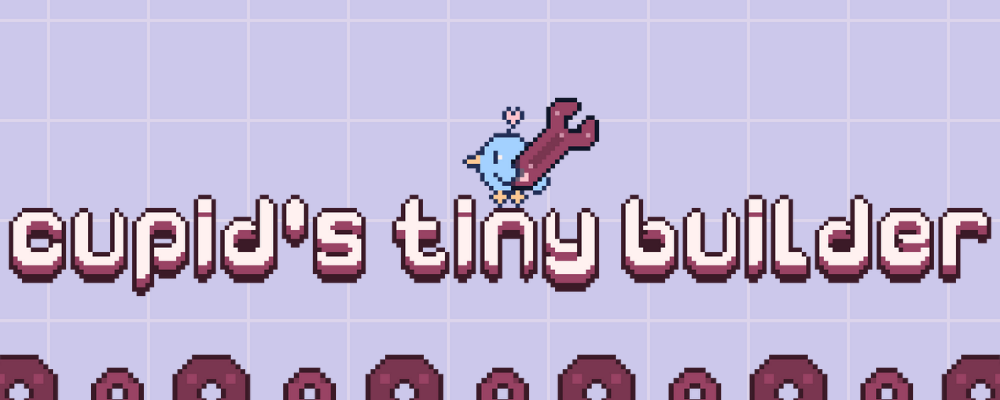 Cupid's Tiny Builder
Play as Kiu (an adorable lil' birb beloved by all), one of Cupid's helpers and builders, as they travel through Cupid's workshop to rebuild the broken Heart Maker Machine
Play through 3 levels, grab Cupid's Wrench to turn the Negative Hearts back into Care Hearts, and collect all 3 of the Machine Bolts to fix the machine!
BONUS: If you win the game and rebuild the Heart Maker Machine, you can play the game again on hard mode!
(First level, Level 0, is a tutorial level!)

HOW TO PLAY
This is built as an HTML5 browser game, but there is a Windows and Mac download available!

It's mobile...responsive, but very buggy
You could also use your mouse to direct Kiu, but it's also buggy

MOVEMENT: Use the Left, Right, Up, or Down and/or WASD keys to move.
FLY/JUMP: Hold down Spacebar or the Up key to stay in the air longer.
KNOWN BUGS

The "main menu" button glitches up and repeats the level

BUT if the level has been completed, you are able to go to the next level.

The "resume game" and "try again" buttons takes you back to the main menu...why? Great question.


CREDITS

I did this jam solo, so I sketched, designed, and animated all of the character, world, and level art!
© Copyright 2022. All Rights Reserved. Avelore Ave. None of the game's art, designs, or animations are to be reproduced, replicated, or use without the game developer's consent.

Other Credits/Assets:

Font from: V3X3D https://v3x3d.itch.io/endless-love

Background Music from: [Dtection] by Studio Meow Meow (CC BY) https://thricedotted.itch.io/looptober-2021-variety-pack
Sound FXs from: https://kronbits.itch.io/freesfx (Except for the two "Chirp" and "Popping" sounds. I created those two for my first indie game)

This game was made in under 10 days for the first GDevelop Game Jam in 2022!

Download